Boilers
When winter weather makes its way to the New Jersey area, it can pack a real wallop. If you hope to live comfortably throughout the coldest time of the year, then it is vital that you not only have a great heater installed in your home, but that this system is professionally maintained regularly, and that it is expertly repaired as needed. That is the level of service quality you can expect when you schedule your heater services with a member of our staff. We also offer 24 Hour Emergency Service in case of unexpected issues that tend to happen on the coldest days or nights.
One heating system that we frequently service, and just as frequently recommend to homeowners looking for a new system, is the boiler. Boilers are tried and true and are trusted by homeowners in even the coldest areas to keep their homes warm throughout the worst of the winter weather. If you have an existing boiler in need of service, or if you'd like a brand new boiler installed in your home, just give Great White Mechanical a call and know that the job will be completed properly every step of the way.
Benefits Of Using a Boiler
While many homeowners enjoy the prompt response of their forced air heaters, such as furnaces or heat pumps, there is a lot to be said for the way in which a boiler goes about heating a home. It is true that the heating process may be a bit more gradual, as the boiler supplies heated water or steam to hydronic distribution systems or steam radiators, but this more gradual performance can actually help one to heat his/her home more evenly or consistently. You also won't have to worry about the indoor air quality issues which may plague forced air systems, and boilers are among the most durable of all heaters out there.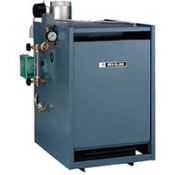 Professional Boiler Installation Is a Necessity
We'd like to think that no homeowner would ever attempt to install or replace a heating system on his/her own, but you never know what some homeowners may think themselves capable of. Trust us when we tell you that no online tutorial or casual knowledge of boilers will prepare you for the intricacies and challenges of a boiler installation. If your boiler is not of the right size for your home, for instance, it will not function as effectively or efficiently as it ought to. If your boiler is not expertly installed or replaced, it may not even function safely. Make sure that you schedule your installation or replacement with a technician on our staff.
Let Us Repair And Service Your Boiler
Like any other heater, your boiler will benefit greatly from routine maintenance service. During boiler maintenance, the entire system will be assessed, cleaned, and tuned up as needed. Not only does this keep your heater working as efficiently as it possibly can, but it will also keep boiler repair needs as few and far between as possible. Of course, you will still encounter repair needs eventually. When you do, know that our professional technicians are more than capable of completing any repairs that your system may require. Call Great White Mechanical for more details.