Ductless Split Systems
Do you have a living space such as an office, garage or home addition that doesn't have access to ductwork? Keeping these areas cool during a hot and humid New Jersey summer has, in the past, required noisy window and floor units. But did you know that a ductless air conditioning system can bring you efficient, quiet comfort without the need for ducting? Great White Mechanical is excited to specialize in Mini Split Systems, also known as Ductless Split Systems. Our team is always on the cutting edge of new training methods and techniques, simplifying solutions to give our customers quality services at affordable prices.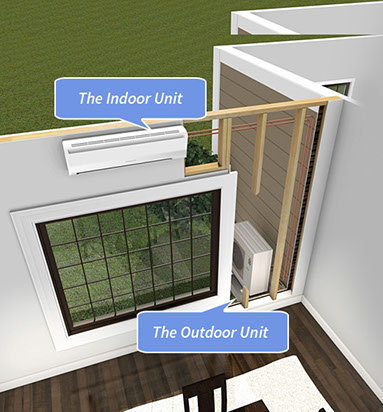 Ductless "Mini Split" Systems
They're called mini splits because, like their big brothers, the air conditioner or heat pump is located outside and the air handler is located inside. The difference is that a ductless air handler is compact and designed to serve a single room. Ductless air handlers can be ceiling recessed, floor or wall mounted, and offer filtration and quiet operation.
Multiple Rooms? Not A Problem
A single outdoor ductless heat pump or air conditioner can power more than one indoor air handler. This offers not only coverage for more areas, but room by room control as each air handler can be adjusted separately.
Great White Mechanical is a trusted New Jersey ductless air conditioning company who offers not only new installation services, but ongoing maintenance (or repair) on all makes and models of equipment. We also install and service normal split and package systems.
How Does a Mini Split System Work?
Traditionally, an HVAC system keeps the booming compressor and condenser on the exterior of your home and this is the same with a mini split system. The big difference is that the mini split system eliminates the need for an interior evaporator unit and takes bulky ductwork out of the equation. Discreet wall mounted blowers will pump refrigerant directly from thin copper tubing instead. An extraordinary feature is that it has dual operation, working in reverse in the winter. It will absorb the heat pockets from the outside air and circulate it inside your home to provide warmth. This gives you efficient heating and cooling throughout the year.
Mini Split System Installation
Installation is simple. Great White Mechanical experts run copper tubing from a small 3-4 inch hole in the ceiling or wall which easily connects to the indoor and outdoor units. From the outdoor condensing unit, refrigerant is cycled through the copper lines into the interior unit dispensing the air quietly and efficiently throughout the indoor structure. When getting your mini split system installed by Great White Mechanical, you can expect quite a few advantages.
Benefits Of a Ductless Split System
For starters, the energy efficiency is a huge benefit. Air ducts can potentially lose up to 40% cooling, whereas the mini split system is only a 5% loss. Increased efficiency equals lower cost on utility bills. Mini split systems come equipped with individual zoning which means you don't pay to cool or warm a space that is not being occupied. You are able to heat or cool the selected areas defraying cost on maintaining temperatures in an unoccupied space. Mini split systems operate quieter. Compressors and motors in a standard mounted, floor or window HVAC unit create a lot of noise, interrupting conversations or causing you to miss out on a clever quip in your favorite comedy. Mini split systems are ductless air conditioners that are simply comprised of an indoor and outdoor unit for quiet and peaceful days. As mentioned before, there are no air ducts, keeping air quality under control and eliminating the need for regular air duct cleaning services. Another benefit is the year round operational ability with the mini split system's versatility. Mini split systems have warranties available depending on the model you purchase, which can be discussed with a team member from Great White Mechanical.
Mini Split System Service
Great White Mechanical enjoys making our valued customers a part of our family. With our superior services, including Mini Split Services, and affordable prices, you will be keeping us programmed in your phone for easy contact on all your HVAC needs. We are licensed, insured & bonded, and are determined to satisfy each one of our customers' indoor comfort requirements. Call us for more details on getting a mini split system today!