Commercial Air Conditioning Services
Your commercial air conditioning unit is a powerful piece of equipment that requires a professional, knowledgeable, and experienced team of technicians to repair and maintain or replace when needed. At Great White Mechanical, we have 45 years combined experience in the HVAC industry and our knowledgeable technicians are available to professionally repair, maintain, or replace all makes and models of commercial air conditioning systems in New Jersey.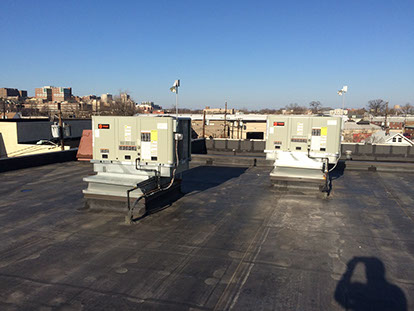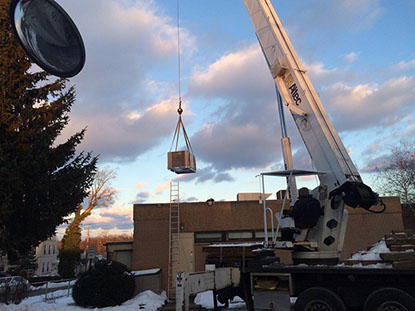 24/7 Professional Air Conditioning Services
It is inconceivable to imagine your commercial cooling system breaking down on a hot day. At Great White Mechanical, we are a locally owned and operated business. We understand that if your company's air conditioning unit is malfunctioning or broken down completely, it can result in expensive downtime for your business. We offer reliable, 24/7 emergency service to diagnose the problem and get your system back up and running as quickly as possible.
Emergency Commercial Air Conditioning Inspections & Preventive Maintenance
At Great White Mechanical, our educated technicians specialize in commercial air conditioning repair and maintenance. We work with office buildings, hotels, and other small to large businesses. As a company, we understand that commercial air conditioning systems are much more complicated than residential units. When you hire an expert company like Great White Mechanical to take care of your commercial air conditioning repairs, you can save time and money as well as reduce the possibility of potential problems from occurring in the future.
Emergency Commercial Air Conditioning Troubleshooting, Diagnosis & Repairs
At Great White Mechanical, our skilled technicians are the experts when it comes to maintaining a comfortable business environment. Our technicians understand that running a business efficiently can be difficult enough without the added stress of a faulty air conditioning unit. An air conditioning system that is malfunctioning can lead to loss of revenue, complaints, and loss of productivity. Our commercial air conditioning technicians are available 24 hours a day for emergency service. At Great White Mechanical, we are dedicated to providing you and your business with quick, efficient and reliable service by providing the highest standard of commercial air conditioning repair and maintenance in New Jersey.
Commercial Air Conditioning Installation & Replacement
If you need a new split system, rooftop unit, chiller, cooling tower or heat pump we can install a brand new system or help you find the right replacement parts. Our highly trained and professional technicians will thoroughly examine your existing system along with taking your building capacity into consideration to advise you on which system is best suited to your unique environment; one that will ensure you receive the most optimal results. Let the experts at Great White Mechanical offer you advice on popular commercial air conditioning brands and also help you compare the units to find the best system for your commercial business needs. Our goal is to help lower your cooling costs and provide you with a system that is both effective and efficient. Our technicians have the knowledge and skills to evaluate your needs, provide a written estimate, and find the right capacity replacement unit at a reasonable price to completely satisfy your commercial air conditioning needs.
Some of the Benefits of our Commercial Air Conditioning Services Include:
24/7 Emergency Service
Comprehensive Commercial Maintenance Programs
Licensed, Bonded & Insured for your Complete Peace of Mind
Professional Service on Any Brand
Commercial Product Warranties
And much more!
Contact Great White Mechanical today and speak with a customer service professional about all of your commercial air conditioning needs!